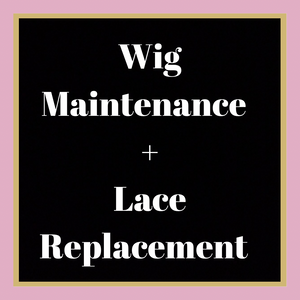 YOU MUST PROVIDE YOUR OWN LACE OR PURCHASE ONE FROM ME!!
LACE MUST BE THE SAME SIZE AS PREVIOUS LACE 
INCLUDES:
WASH AND DEEP CONDITION
BLEACHED KNOTS
CUSTOMIZATION/STYLING
TAKING OFF OLD LACE AND PUTTING ON NEW LACE
TIGHTENING OF TRACKS
ADDING NEW ELASTIC BAND IF NEEDED OR REQUESTED 
PLEASE READ!!!
Atfer purchasing you will receive an email on where to ship your hair to. If you are local and would like to drop off contact me after purchasing to schedule a drop off date/time.
Your first and last name must be the same on the package as your order 
If you are dropping hair off please make sure your full name is in the bag (same name as order)
Turnover time is 5-7 working days. Turnover time starts once I have recieved your hair
If you are adding color for me to dye your hair but be GOOD quality. All hair takes dye differently. Contact me if unsure
If sipping hair, hair must be sent out within 3 days after purchasing. 
Body Curls, Natural State, and Straightening hair is included in this price. Anything extra is more money
I DO NOT accept 4x4 closures
ALL SALES ARE FINAL
Purchashing this you are agreeing to these policies! 
If you have any questions or concerns contact me at Email: bronzebeautyhairco@gmail. com or Text Only: 718-395-9220